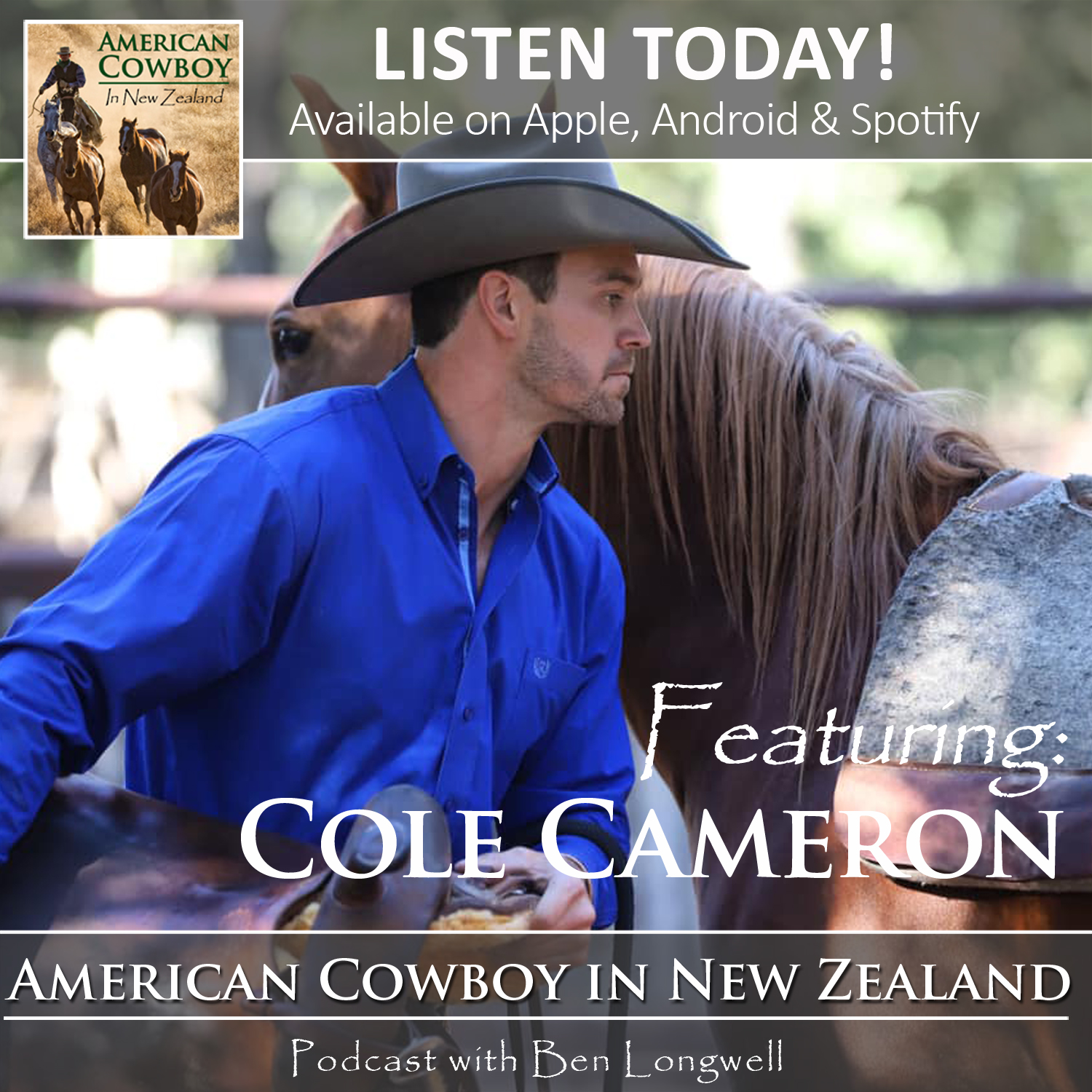 Was incredible to catch up with Cole again, learning more about his adventures and growing up with Craig Cameron as his dad!
About Cole: Cole Cameron was raised in the cowboy and western way of life. Born in Arizona, raised in Texas and son to world champion and Hall of Fame cowboy, Craig Cameron. Cole has spent his life on family ranches in Texas, New Mexico and Arizona and was always a top student, as well as a highly gifted athlete. Cole was a standout 3-sport athlete in High School, earning all-district honors in football, winning a state championship and earning a scholarship to play college football at Texas A&M University. Upon graduating with his bachelors in Agriculture at Texas A&M, Cole decided to pursue graduate school earning a rodeo scholarship and a spot on the Texas A & M rodeo team.  Cole competed two years for the Texas A&M rodeo team and competed twice at the College National Finals in Casper, Wyoming.
After finishing his college rodeo career, Cole continued to follow his rodeo dream on the pro circuit. In 2011, he won the Cowboys Professional Rodeo Association in Steer Wrestling. Cole, who is now a highly competitive team roper, and continues to work and learn with many of the top horse trainers competing in multiple disciplines including, cutting, team roping, and reined cow horse.
Cole is in demand at many horse expos and teaches horsemanship clinics Nationally and Internationally traveling worldwide helping people to develop great horses and horsemanship.
In 2020, Cole was the EXCA Futurity World Champion and in 2021 won the prestigious Wild Card competition at the Road to the Horse colt starting event in Fort Worth, Texas. Next year proves to be even busier as Cole prepares to compete for the 2022 RTTH World Championship title of colt starting in Lexington, Kentucky.
Cole, who was raised in a true colt starting atmosphere, is truly the gold standard when it comes to this discipline. Cole lives, breathes, and practices the art of colt starting that has been passed down the Cameron family from father to son, working many training horses each and every day. Capturing the essence of his training philosophy, Cole says, "From good beginnings, good things tend to come naturally."
http://www.cole-cameron.com/
https://www.facebook.com/RideSmartHorsemanship
https://www.instagram.com/colecameron87
About American Cowboy In New Zealand Podcast: Join horseman Ben Longwell, an American Cowboy living in New Zealand, as he shares stories & adventures and interviews extraordinary men and women in the equine and ranching industries to gain insight into horsemanship and life itself. As part of his mission to help people and their horses achieve more together, through his business True West Horsemanship Ltd, this show includes horsemanship & training tips, stories, interviews with other industry professionals, and tips for personal development and life applications.
http://truewesthorsemanship.com
https://www.facebook.com/truewesthorsemanship
https://www.instagram.com/true_west_horsemanship
https://www.youtube.com/cowboyandkiwigirl
https://www.tiktok.com/@true_west_horsemanship